(This post contains affiliate links. This means if you purchase an item I have linked to, I may receive an affiliate commission at no extra cost to you.)

As an Amazon Associate I earn from qualifying purchases.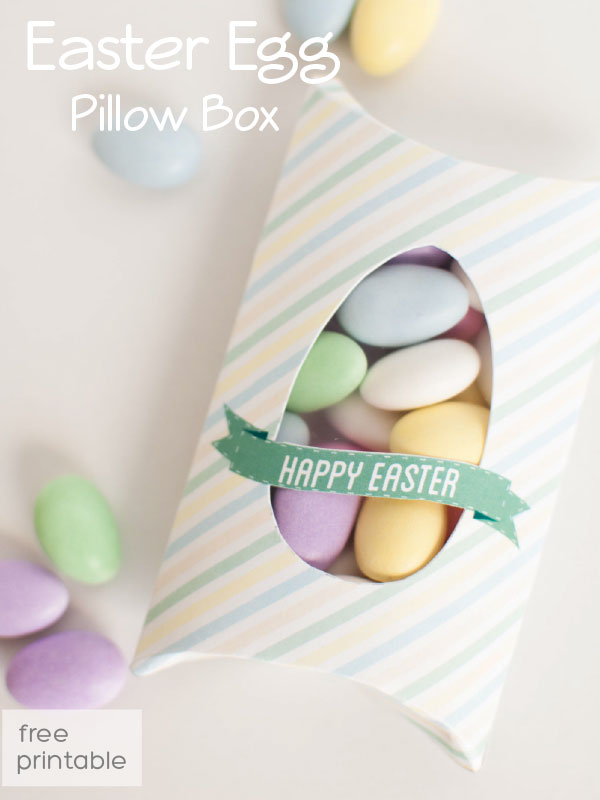 There are so many things that I love about this free Easter pillow box, but at the top of the list is the egg-shaped window that gives a peek to the colorful treats inside (Jordan almonds are one of my all-time fave candies!).  Spring has always been my favorite season, mostly for the exciting bursts of color that slowly start to make their way back into the world. The window in this box is easy to make and allows you to let all of those wonderful colors show through.
How to Make Your Box
Needed:
Sharp scissors
X-acto knife
Bone folder (or similar)
Plastic page protector
Double-sided tape
To make the Easter Egg Pillow Box, print both the box and the folding guide. Cut out both templates and line up the folding guide with the backside of the pre-designed box. Now you can use your bone folder to score along the dotted lines. (Note: If you don't have a bone folder, use some other object with a blunt tip, such as a knitting needle, to make your score lines.)
Next, use an X-acto knife to carefully cut out the egg shape above and below the "Happy Easter" banner. Once your window is cut, cut out a rectangle from the plastic page protector slightly larger than the egg window. Add a thin cut of tape to all sides of the plastic rectangle and carefully place over the window hole (be sure to tape it to the backside and not the front!). Now you can continue assembling your box as usual.